The PROTECTED AREAS OF NEW ZEALAND
The Department of Conservation (DOC) manages a range of protected areas including national parks, conservation parks, scenic reserves, scientific reserves and stewardship lands, as well as marine reserves. Together these sites cover more than 33% of New Zealand's land area.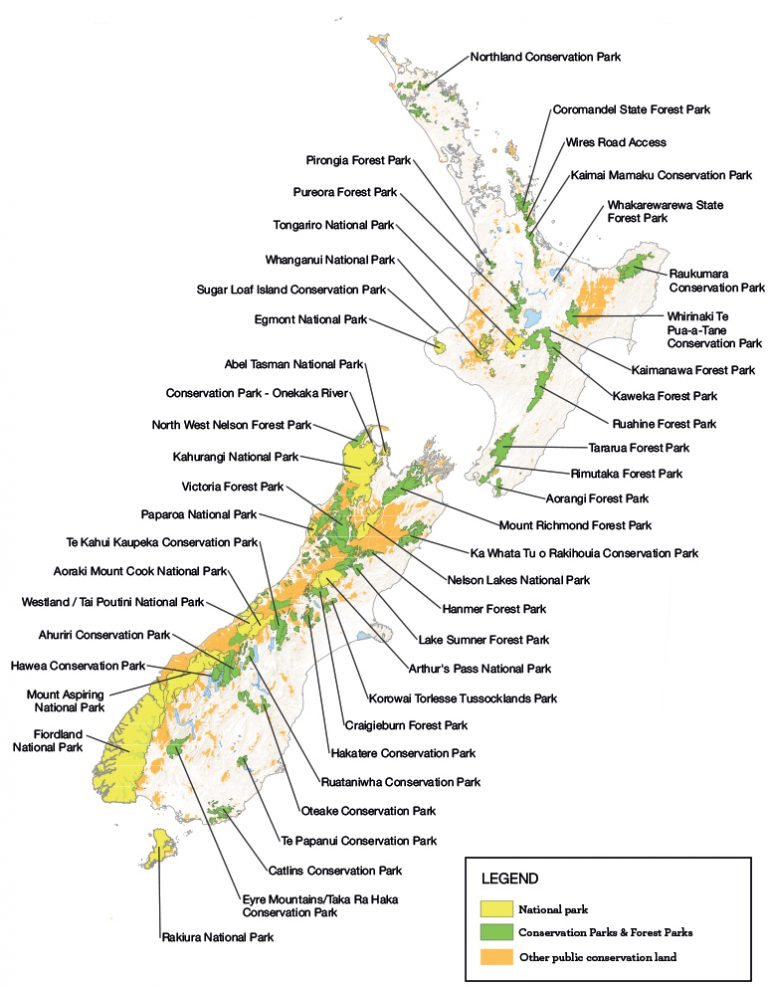 GOVERNANCE STRUCTURE:
LAW AND POLICY
New Zealand's government consists of a parliament made up of a House of Representatives. The House of Representatives is made up of 120 members of parliament who have been elected by the public. The parties in power appoint some members of parliament as ministers responsible for different areas of governance. The Minister of Conservation is responsible for all governance tasks related to conservation, including protected areas.
Images © New Zealand Parliament (New Zealand Government Cabinet), Department of Conservation (all else)
The Minister of Conservation appoints an independent statutory body called the New Zealand Conservation Authority (NZCA). The NZCA is a member of the New Zealand Committee of the International Union for Conservation of Nature (IUCN). The function of the NZCA is to govern New Zealand's protected areas by overseeing their management and advising the Minister of Conservation.
Conservation Boards are independent bodies that reflect the range of public views regarding conservation within a particular geographical area of New Zealand. There are 15 Conservation Boards in New Zealand, each with up to the 12 members that are appointed by the Minister of Conservation. The process of selection involves a public nomination process for people knowledgeable of conservation issues in their geographical area.
Campsites are located across New Zealand. Campsites can be basic or serviced. They may have few services or contain facilities like showers and full cooking facilities. Campsites are open to members of the public who pay per night to stay in the tents, caravans, or campervans, which they bring with them.
THE
KEY OUTCOMES
OF THE DEPARTMENT OF CONSERVATION
KEY OUTCOME 1:
BIODVIVERSITY
KEY OUTCOME 2:
RECREATION
GREAT WALKS IN NEW ZEALAND
Walking has always been important in New Zealand, from the routes Maori took across the land to find pounamu, gather food, and meet others, to those European settlers traversed to cross mountain ranges and find resources. Today New Zealand is home to many hundreds of walks that occupy its protected areas, with the nine most stunning hiking routes in the country have been labeled the Great Walks of New Zealand. These walks follow track systems through New Zealand's national parks, traversing spectacular scenery across mountains, lakes, coastlines, and valleys along the way. The tracks are well maintained and suitable for everyone with a reasonable level of fitness. Day walks to multiday journeys can be undertaken both without assistance and with the help of a guide. The walks are easily accessible from nearby cities or towns and have accommodation available along the routes.
KEY OUTCOME 4:
ENGAGEMENT
CONSERVATION HEROES: DOC RANGERS
Front line of nature protection in New Zealand. These rangers are responsible for undertaking the day-to-day tasks of maintaining of New Zealand's national parks. Jobs like trapping that help protect New Zealand's native birds are some of the most important things they do. The upkeep of recreational facilities such as tracks and huts are also carried out by the rangers.
CONSERVATION HEROES: VOLUNTEERS
1000s of volunteers assist the Department of Conservation in carrying out their day-to-day activities within New Zealand's protected areas. New Zealand's national parks would not exist without the help of volunteers, who participate in conservation tasks such as trapping pests and removing weeds. The many enthusiastic and motivated conservation volunteers are testament to the importance of protected areas to many New Zealanders. They are passionate about ensuring the survival of the country's flora and fauna and are driven by cultural values of kaitiaki and guardianship.
MaRINE RESERVES OF NEW ZEALAND
While the focus of New Zealand's nature conservation is often on efforts to protect scenic and ecologically significant landscapes, its marine protected areas are also highly important. New Zealand's marine protected areas cover large areas off the shores of the country's main islands. These places are not just blank, static spaces in the sea, but are dynamic marine environments and home to many important species. Far from always being remote and inaccessible, marine protected areas are places the public can visit and enjoy. Visitors have the opportunity to spend time out on the water to get a feel for the marine world, and if they are lucky see in the wild animals such as dolphins and whales.